---
NEXTEL™ Nextel™ ceramic fiber is designed for sleeving applications up to 2200°F (1204°C). It is made from continuous filament alumina-boria-silica fiber which is braided without reinforcement inserts of organic, glass, or metal. The ceramic fibers retain strength and flexibility at 2200°F and still offer significant strength at exposures as high as 2600°F (1426°C).
Nextel™ 440 increases the temperture range to 2500 deg F ( 1371 deg C) for extended time. Short use temperature is 3000 deg F (1649 deg C) Composition is alumina-silica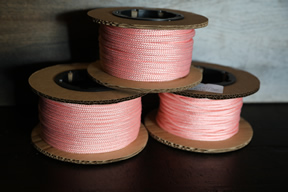 Both Nextel™ 312 and 440 braided sleeving uses include aerospace and industrial markets. For hose and cable protection in hostile high temperature environments, thermal shields, door seals as well as electrical, heater and as thermocouple wire insulation.

Heat cleaning is available to remove the organic polymer finish on Nextel yarn if purity is a concern.
In addition heat treatment can be done if the sleeve will be in hot humid environments or to "relax" the sleeving to minimize unraveling or flowering. This process changes the crystal structure of the fiber preventing physical degradation in these conditions.
Available in standard wall and heavy wall for thicker braid and longer thermal protection.
Other diameter sizes and wall thicknesses available on request.

Nextel™ 312 and 440 Sleeving Physical Characteristics:
STANDARD SLEEVING
| | | | |
| --- | --- | --- | --- |
| PRODUCT CODE | INSIDE DIAMETER (INCHES) | WALL THICKNESS (INCHES) | STANDARD SPOOL SIZE (FEET) |
| 02-200 | 1/64" | 0.008 | 100' |
| 02-201 | 1/32" | 0.010 | 100' |
| 02-202 | 1/16" | 0.028 | 100' |
| 02-203 | 1/8" | 0.035 | 100' |
| 02-204 | 3/16" | 0.035 | 100' |
| 02-205 | 1/4" | 0.035 | 100' |
| 02-207 | 3/8" | 0.035 | 50' |
| 02-209 | 1/2" | 0.035 | 50' |
| 02-210 | 5/8" | 0.035 | 50' |
| 02-211 | 3/4" | 0.035 | 50' |
| 02-213 | 1" | 0.035 | 25' |
| 02-217 | 1-1/2" | 0.035 | 25' |
| 02-219 | 2" | 0.035 | 25' |
| 02-220 | 2-1/2" | 0.035 | 25' |
| 02-221 | 3" | 0.035 | 25' |
HEAVY WALL SLEEVING
| | | | |
| --- | --- | --- | --- |
| PRODUCT CODE | INSIDE DIAMETER (INCHES) | WALL THICKNESS (INCHES) | STANDARD SPOOL SIZE (FEET) |
| 10-209 | 1/2" | 0.125 | Any Length |
| 10-211 | 3/4" | 0.125 | Any Length |
| 10-213 | 1" | 0.125 | Any Length |
| 10-217 | 1-1/2" | 0.125 | Any Length |
062319