ARMORTEC™ GASKETS
Article Index
Page 1 of 2
---
ARMORTEC™ GASKETS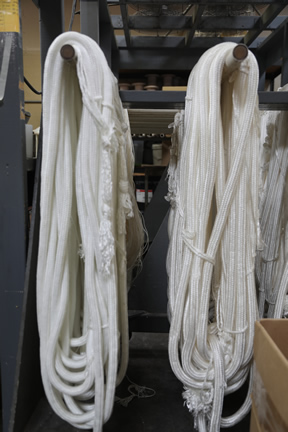 TECSIL™ braided silica ropes combine with Nextel™ ceramic fiber to offer high temperature gaskets and seals.TECSIL™ rope is 96% silica which offers reliable thermal performance in a continuous service environment up to 1800°F (982°C) with brief excursion temperatures to 2000°F. TECSIL™ will retain it's soft, flexible characteristics and will provide a compressible seal in high temperature applications. When constant soak temperatures exceed 1000°F, silica is the material of choice for guaranteed performance.

To improve the abrasion resistance of the silica rope core, Intec Products, Inc. has developed an Armortec™ gasket that is "armored" or "over-braided" with a tough, durable covering of Nextel™ 312 ceramic fiber. The continuous filament ceramic fiber sleeving encapsulates the silica core to provide protection against wear from abrasion and extends the service life of the silica rope gasket.

Nextel™ 312 ceramic fibers retain their strength and flexibility up to 2200°F (1204°C). The pure high alumina-boria-silica fibers offer significant strength with minimal change in properties in brief exposures as high as 2600°F (1426°C).

Nextel™ fibers are thermally compatible with the TECSIL™ silica fibers, resulting in a compressible seal that is capable of extremely high temperatures without excessive shrinkage and embrittlement. Also, the combination of the pure silica and alumina-boria-silica fibers avoid many health concerns over respirable fibers.